Organizing in the bedroom has a lot to do with the size of your room, but space can be had with a few simple things. First, let me say, I do not have a storage space (basement/ attic/storage closet) in my apartment, so I find space wherever I can.
That is the topic for the day: finding or making space. Beds can be put on risers, storage pieces can go to the ceiling, shelves can be added, and space can be found behind bedroom doors.
If a bed does not have drawers underneath, bed risers add several inches underneath a bed and can work with any size bed. With the extra inches, luggage fits under the bed, saving valuable closet space.
walmart.com
There are rolling totes which fit perfectly under a bed and are especially good to store spare blankets, sheets, and pillows. I like this one because, with hinged middle, the top can be removed if the full length needs to be accessed.
walmart.com
In the off season, the window fan(s) can be slid under the bed, beside, behind, or under a dresser. I keep my filled journals and old calendars in storage totes underneath my bed at the pillow end. (Most people throw away their used calendars, but I save them because I have found it necessary to refer to old calendars many times.)
This bed is not on risers, but open storage bins on casters are under the bed.
theinspiredroom.com
In a children's bedroom, I like this idea I found with wall lamps and magazine racks on both bunk bed levels.
theinspiredroom.com
(I have to say it: there is some good storage space under the bunk beds, too. This would be a good spot for children's games or extra bedding,)
A loft bed is an excellent way to create storage in a small space. A bookcase, a desk and chair, or another bed can be placed under the loft.
kidsomania.com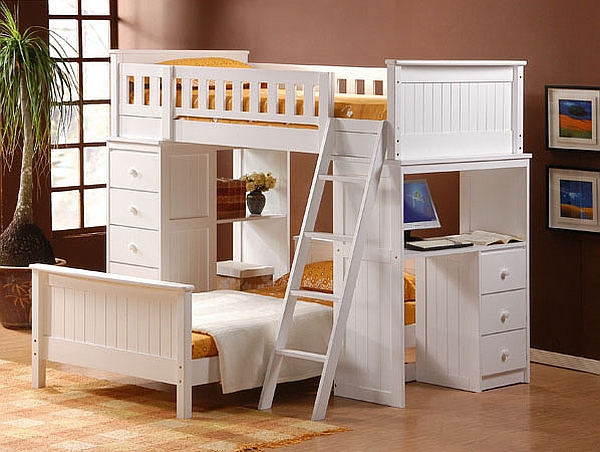 cdn.decoist.com
This piece, normally associated with a living or family room is another way to make the most of available space in a bedroom. Open shelves of assorted sizes can maximize storage needs or take the place of a dresser.
This shelving unit has doors which are half glass/half solid.
Imagine shirts and sweaters arranged on the visible shelves and lingerie inside the doors or in decorative baskets on the shelves. Perfume, an earring or necklace tree, and a bud vase can pretty up the tall, narrow shelves in the first unit. (Both pieces are from IKEA's Expedit line.)
Enjoy!