It is time to give the knitters among us a look at a pretty pattern. I found this pattern for a Butterfly Pi Shawl by Linda Farrelly Designs. The picture I saw is of this beautiful, circular, turquoise shawl. Note the
butterflies. in the middle ring.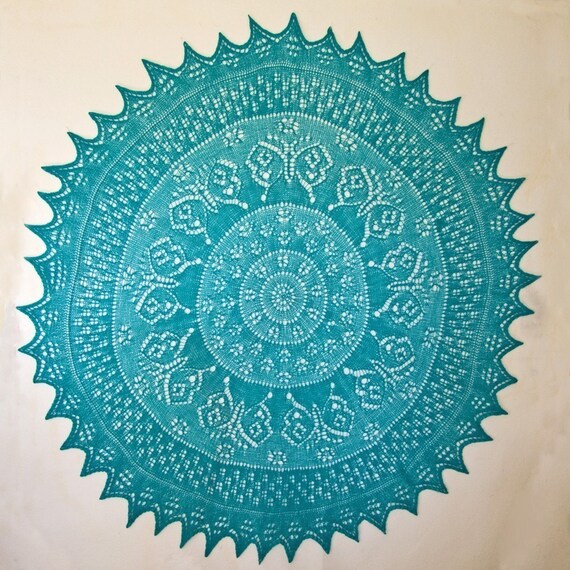 Photograph by Linda Farrelly Designs
First, I love butterflies! Second, during a very difficult time in my life, I received many cards with pictures that either were, or included, one or more blue butterflies. Third, when I saw the filet, I thought of my grandmother's works of art that adorned her house and our front door.
When I looked at the pictures at her Etsy shop, I saw a second shawl in fisherman with a different edging.
Both patterns are included in the PDF
download.
Photograph by Linda Farrelly Designs
I was so taken by her designs that I asked for permission to share her designs with you, along with the link to her shop. It was with happiness and gratitude that I received her positive reply.
At Etsy, she writes, "
This is a shawl I originally designed for my mother, who is crazy for butterflies! The original shawl measures 60" across after blocking when knitted in worsted weight yarn. It works well as a small afghan or lap robe, too. It could, of course, be knitted in a finer yarn for a lacier, more open look and a lighter garment.
The lace patterns are charted. The plain rounds and increase rounds are written out.
"
Although there are shawls in my closet, I typically do not wear one. I plan to make my Butterfly Pi with fingering weight yarn to use as a light-weight lap robe for spring and fall. It will be a learning experience, because the only chart I have ever read is for counted cross-stitch.
If you have any hints for reading a stitch chart, please let me know in the comments below.
Enjoy!
-
Amelia