Today's post is a continuance of last week's blog. Last week, I wrote about pantry space considerations, where items should be stored, and special consideration for dietary requirements. Today, we will talk about maximizing the space available and the best way to store pantry items, as any items not in a bottle or can are susceptible to parasites like mealy worms.
Bags of flour and sugar can be floppy and messy, so I recommend transferring them to BPA-free* containers. BPA,

Bisphenol A, is a compound used in plastics to make them stronger; however, it is linked to leeching hormone-like properties into whatever is in the containers. It is particularly bad for children and pregnant women, so it is best avoided.
Any ground, grainy, and powdery substances, rices, and beans become easier to find when they are in plastic containers with labels. The best shapes for the containers are squares and rectangles, because circles leave a lot of dead space. Last week, I talked about my island. This week, I am sharing pictures.
Can you see the added wire shelves on both levels? It increases storage space and is easier to access than the containers I had to stack. I used a Brother P-Touch labeler to identify what's inside. On the container of whole wheat flour, I taped a recipe I found on the bag that I would like to try. Make sure to attach any instructions from the original packaging.
The containers with the pop-tops are by OXO. I purchased them at Target and Bed, Bath, and Beyond.
I did not add extra wire shelves on this side, so I had to stack the containers. I also used soft drink can dispensers (which gives more space on top for storage), and a rack for my cutting sheets and boards, cookie sheets, and muffin tins.
I also added an extra wire shelving unit in the pantry (see
part 1
) and use a small dishpan-like rectangle to corral smaller boxes. It comes out to access tall bottles out of sight of the camera. The bottom shelf of the small shelving unit has a spice shelving unit to make it easier to see the bottles stored there. It also makes a nice space underneath to store garbage bags and onions.
I used soft drink dispensers for my soup and tomato cans, but there are also these bigger dispensers for large cans. I first saw them on an episode of "Extreme Couponing."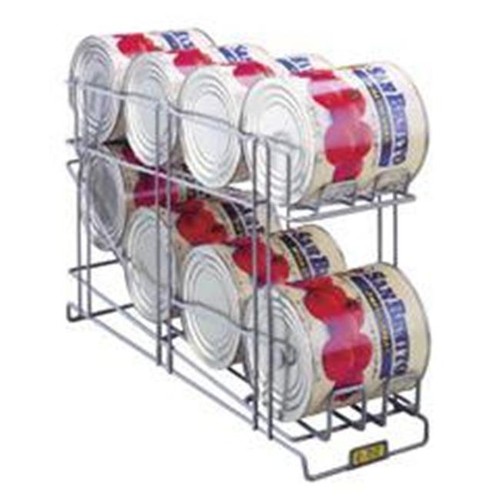 Source: ebay
Baskets can also be used to hold like items together. If you cannot see inside the baskets, place labels on the fronts.
Source: Better Homes and Gardens
Please post pictures of your pantry storage in the comments. Thanks for reading my blog.
Enjoy!
*All views expressed in my blog are my own.